A little note about pictures ~

Please enjoy the photos of each puppy that you see here. Every photo you see represents about a 1-hour photo shoot, plus editing & uploading time. We try very hard to represent each puppy in the best possible way so that you have no doubts about what the puppy looks like in person. Most litters eventually have video footage, too, as they begin to play. We also try to keep the photos updated and take new pictures as often as possible... usually every 8-12 days. PLEASE keep this in mind when you email requests for more pictures and/or video footage of a particular puppy. If you are serious about reserving one of our puppies, do so and we will send updated pictures whenever we have them (usually once per week).

We get an overwhelming amount of emails on a daily basis and if we spent time taking new photos for everyone that requested them, we would have no time to spend to properly interact with and socialize the puppies in our care. The ONLY time we oblige new picture requests is for people who will be having their puppy flown to them and will never get to visit our facility in person.
Cavachon puppies - a planned breeding between a Cavalier and Bichon. Healthy, social, Cavachon puppies from caring, professional breeders.
Please Note: 6% PA sales tax will be added to all prices.
Size:
The Cavachon can range in size anywhere from 12-20 pounds, however, they do tend to range at about 15-18 pounds. The height of the Cavachon will largely depend on the size of the parents. A Cavachon can appear tall as well as short.
Coat:
The coat on a Cavachon is usually fluffy, quite thick and curly. The Cavachon's coat is full and can grow to a length of 3-5 inches long. This breed sheds minimally and will be a great selection for those with allergy issues. The color of the Cavachon's coat can vary a great deal due to the nature of the mix, however, shades of white or brown are the most common. Although, a solid peach color, tri-colored, sable and white and even black and tan are possible coat colors as well.
Character:
The Cavachon was created simply for the purpose of a friendly and loving companion with little to no shedding. This experiment was a great success, and now the Cavachon has become a quite popular breed. This breed is very gentle and good-natured and will be quite happy with family life. The Cavachon is known to bark should a stranger come near, however, as they are quite good-natured, they should not be depended upon as a watchdog.
Temperament:
The Cavachon is a very affectionate and gentle breed with a strong desire to please. This breed will do extremely well with children of all ages. The Cavachon is known to be very tolerable of play with small children. They also get along well with other family pets. However, as stated previously, the Cavachon is a mix of the Bichon Frise and the Cavalier King Charles. A mixed breed dog can have a combination of any of the temperament and characteristics of any breed involved. It is recommended that you thoroughly research all breeds involved in your mixed breed puppy to ensure that you are amenable and prepared for any of the possibilities.
Training:
The Cavachon is very intelligent as well as eager to please. This makes them a very trainable breed. They will be quick to learn commands, but training should begin at an early age for the best results. As with any small breed dog, it is imperative that the Cavachon receive training from a firm and consistent, but not agressive, pack leader. The Cavachon could develop Small Dog Syndrome if allowed to believe that they are in charge.
Activity:
The Cavachon is not an extremely high energy dog. They are quite active indoors and will enjoy playing with the family all day. They will still require a daily walk to expel any excess energy. A Cavachon should not be left in an unfenced area unsupervised, as they may be prone to run off. While the Cavachon does like to play, they will be just as happy living it up in your lap, snoozing the afternoon away.
See our
Testimonials page
for feedback, reviews and pictures of past Cavachon puppies sold by Shade Mountain Kennel. PLEASE read the "FAQ" and "Shipping and Payment" pages if you are interested in a puppy. "Our Policies" page is helpful, too. Thanks!!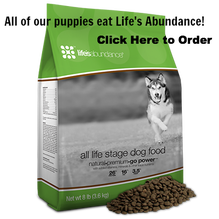 CLICK HERE to fill out a puppy application for current or future litters!

---
First Generation Cavachon Puppies Born October 1st

This gorgeous litter of first generation Cavachons was born on October 1st and will be ready for their new homes at 10 weeks on December 10th. They will go home up to date on vaccinations, on a regular deworming schedule, vet checked and health certified, and with our comprehensive health guarantee. They will be started on potty training and should be simple to finish house training in their new homes. A $200 deposit will hold the puppy of your choice until they are ready to go home.

Price: $1225
Shipping/Delivery Included! (Special for Lexi and Zack)

Male - Tan/White - RESERVED
Zack - Male - Black w/ white markings - AVAILABLE
Zane - Male - Black w/ white markings - RESERVED
Lexi - Female - Black/White - AVAILABLE
Zoey - Female - Black w/ white markings - RESERVED


Click on the pictures below to enlarge & view names
First Generation Cavachon Puppies Born 11/16

This gorgeous litter of first generation Cavachons will be ready to go home on January 25th. They go home up to date on vaccinations, on a regular deworming schedule, vet checked and health certified, and with our comprehensive health guarantee and lifetime support. They will be started on potty training and will be a breeze to finish house training in their new homes. A $200 deposit will hold the puppy of your choice until they are ready to go home!

Price: $1200 (plus $72 tax)

Nemo - Male - AVAILABLE
Neeko - Male - RESERVED
Nikki - Female - AVAILABLE
Noel - Female - RESERVED
Nala - Female - AVAILABLE
Nina - Female - RESERVED